Holidays
Due to the summer holidays, our staff will be limited between 1 and 15 August. Premium and Standard job ads will still be published, but their social media promotion will be postponed to 16 August, as well as the publication of all Basic job ads.
EPSO - The European Personnel Selection Office
Company Description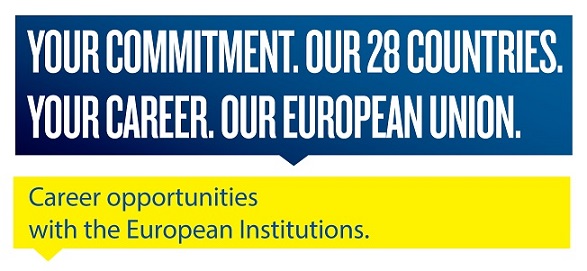 Your commitment. Our 28 countries.
Your career. Our European Union.
Looking for a challenging career in a dynamic environment? Based in the heart of Europe, the EU Institutions offer you a truly international career. Serving over 500 million citizens, a range of options are available, all with the chance to make a real and lasting difference.
Your passion for Europe. Our vision for Europe.
Working for the EU Institutions means working for a better future. Since its foundation, the EU has achieved peace and stability for its Member States and changed the way we live, work and travel. With its Institutions and agencies, the EU has evolved into an organisation spanning a very broad range of policy areas, from development aid to environmental policy, from fighting organised crime to ensuring the rights of minorities, from promoting research and innovation to supporting regional development.
Given the exceptional scope and remit of European policy and legislation, an EU career offers variety, mobility and the opportunity to continue to grow professionally, intellectually and personally throughout your professional life.
Your career. Our context.
An EU career offers a unique opportunity to work in any of ten EU institutions and agencies including the European Parliament, Commission, Council, External Action Service, Court of Justice or Court Auditors. We also have offices in over 130 locations worldwide, with opportunities to travel offered in many of our roles.
Most of the EU institutions are located in Brussels or Luxembourg. With many other international companies and organisations nearby, you can expect to meet people from all over the world and find many products and services tailored to the needs of international professionals, including national, European and international schools.
The EU institutions support diversity and equal treatment in a tolerant and respectful working environment.
Your plans. Our possibilities.
Flexibility is key for the EU institutions, so we encourage mobility and offer talented employees a lifetime of different opportunities working in varied projects, roles and teams. We encourage you to plan your career pro-actively, defining your own interests and taking important decisions regarding your future career path.
For final-year students and graduates, the EU offers entry-level positions for generalists and translators, which are the starting point to an exciting and truly international career.
For professionals with experience , there are positions in various specialist fields, ranging from administrative assistants to economists, lawyers, translators, IT experts and other specialists.
Find out more on jobs.eu-careers.eu for our latest job opportunities.
We are always looking for people who are ready to face a bigger challenge.
__________________________________________________
EPSO is on:
Subscribe to our jobletter!